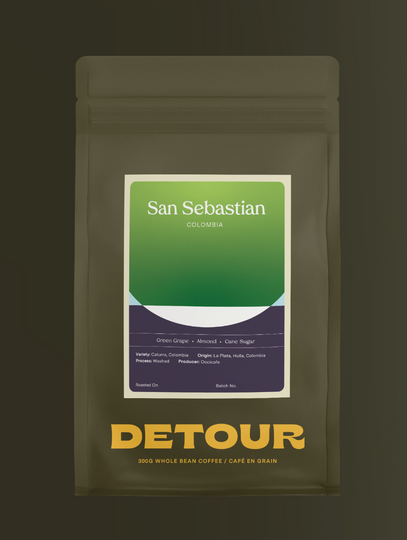 Detour Coffee - San Sebastian, Colombia
---
How do we feel about this coffee?
It feels like our coffee landmark, arriving when the flowers bloom, marking the start of warm summer days and giving that feeling of everything being in its right place. As one of our first ever single origins (almost 13 years ago) 😲 San Sebastian holds a special place in our hearts, and this year we love its big syrupy texture, can sugar sweetness and fresh grape-like acidity. 

Coffee Story
Our relationship with this coffee stretches back to the early beginnings, and it is consistently a favourite every season for its flavour depth and complexity. San Sebastian is a regional blend grown by various smallholder farmers in the La Plata municipality of the Huila region of Colombia. Most members are second, third or fourth-generation coffee growers approaching today's coffee growing and production with a fresh and innovative attitude.
Origin Details
Region: La Plata, Huila, Colombia
Farm: Various
Variety: Caturra, Colombia
Processing: Washed
Altitude: 1500 to 1900 MASL
Producer: Various smallholders as part of OCCOCAFE
Brewing Recipes
Drip | 16g: 1g | 20g coffee | 320g water | 3 min ( V60)
Peak Rest time: 5 to 40 days off roast
PICK UP AND LOCAL-OTTAWA DELIVERY ONLY.
---