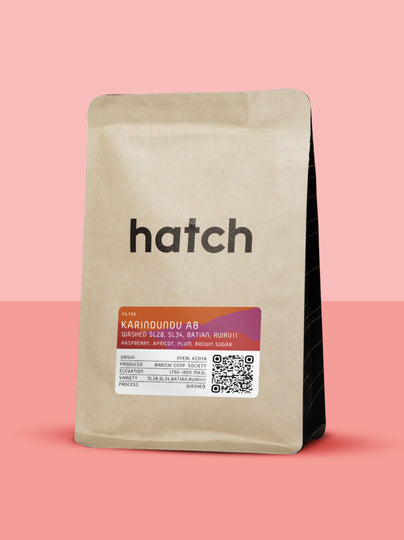 Hatch Coffee - Kenya, Karindundu AB Washed
---
Karindundu is a Kikuyu word meaning "the wrapped", inspired by the Kikuyu and Ukabi war over land issues in regards to migration in the old days. Within the vicinity, there is a famous open-air market and several hotels that cater to visitors. About 400 farmers contribute cherry to this factory resulting in 300 tonnes of cherry delivered per year.

A juicy and vibrant washed Kenya coffee. Perfectly refreshing for the summer heat as the mouth-watering acidity should make for a fantastic iced coffee!

Origin:Nyeri, Kenya
Producer: Barichu Cooperative Society
Variety: SL28, SL34, Batian, Ruiru
Process: Washed
Elevation: 1700-1800masl
Roast Profile: Light Roast
Notes: Raspberry, Apricot, Plum, Brown Sugar
PICK UP AND LOCAL-OTTAWA DELIVERY ONLY.
---