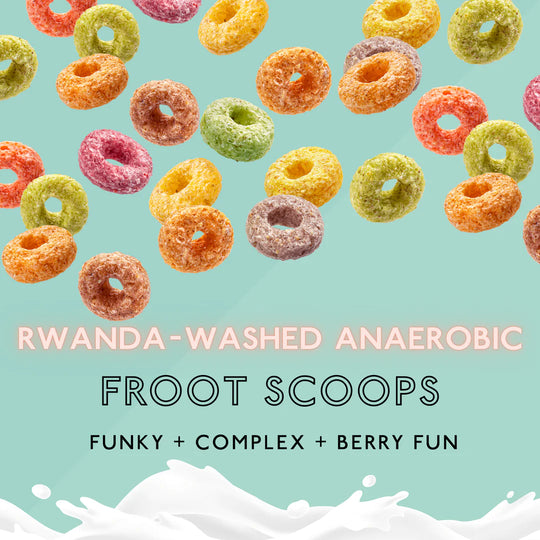 The Artery Community Roasters - Froot Scoops
---
Our type of breakfast consists of two giant scoops of washed anaerobic Red Bourbon coffee chock full of fruity and sweet notes and a really enticing floral and nutty aroma.  
This coffee begins its journey as ripe cherries that are hand sorted and fermented overnight before being depulped and then sealed into plastic barrels for 72 hours. It's during this early stage that it develops it's sweet and funky vibe. 
And now you can safely say, don't worry I had fruits for breakfast. 
ORIGIN + VARIETY: SINGLE PRODUCER - Rwanda + Red Bourbon
TASTING NOTES: Sweet, syrupy, with berry and fruit notes and a chocolate finish. Reminds us of fruit loops in cereal milk with Oreos. 
ROAST: Light
PRODUCERS: Fabien Nahayo, Jean De Dieu Nyandwi, Callixte Ntakaziraho, Radzan Habonimana & Leotele Ndabasanze
FARM: Five smallholder farms working together (Average farm size: 0.12 hectares)
REGION: Southern Province, Nyaruguru District
ALTITUDE: 1555-1900 masl
PROCESS: Washed Anaerobic
---