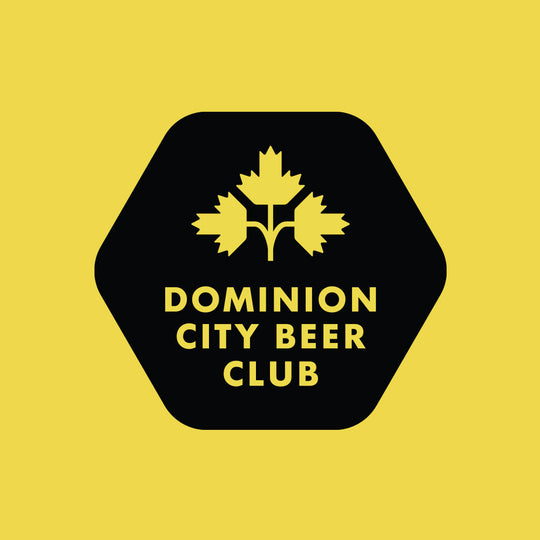 Dominion City Beer Club!
---
Here at Dominion City we love experimentation and we're always working on new beers using fresh approaches, or exploring classic styles, or finding ways to share our love for the land and people who make our product possible by brewing with local ingredients. 
With an average of more than 50 different releases per calendar year, it can be a lot to keep up with as a fan!

The Dominion City Beer Club is here for you.
This monthly subscription is available to fans province wide and includes every new release, barrel-aged funk bottle and off-the-wall experiment we make; all delivered automatically to your door. 
Never miss a new release ever again. Be assured to receive the latest releases direct from the brewery so you can enjoy them the way our brewers intended; fresh!
Here's the deal:
The cutoff to receive this (November) month's box is November 15. All purchases after this date will receive next (December) months beers.
Subscriptions are charged automatically on the 15th of the month
Club boxes will be delivered in the latter half of the month
Sign up for as long or as short a period of time as you like; you control your subscription and can cancel at any time
Your monthly box includes each new release packaged in the previous four weeks, meaning you're always getting your hands on the freshest cans
Boxes may also include a single 750ml bottle of every barrel-aged and funk release throughout the year. Including our small lot releases which can sometimes be limited to a handful of cases
The quantity of cans in your box will vary month-to-month depending on the value of releases 
The retail value of your monthly box will ALWAYS meet or exceed the cost of your subscription
Club boxes qualify for local delivery (or pick-up) and flat-rate $10 shipping Ontario-wide
Join the club today!
---