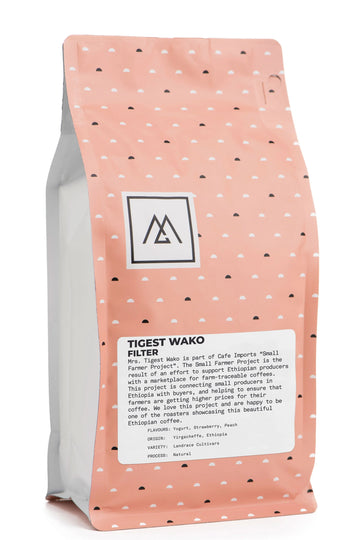 Monogram Coffee - TIGEST WAKO
---
ORIGIN: YIRGACHEFFE, ETHIOPIA
VARIETY: LANDRACE CULTIVARS
PROCESS: NATURAL
FLAVOURS: YOGURT, STRAWBERRY, PEACH
Mrs. Tigest Wako is part of Cafe Imports "Small Farmer Project". The Small Farmer Project is the result of an effort to support Ethiopian producers with a marketplace for farm-traceable coffees. This project has been made in conjunction with Lulo Coffees, an Ethiopian export and coffee development company. This project is connecting small producers in Ethiopia with buyers, and helping to ensure that farmers are getting higher prices for their coffee.
"Our goals with this project would be to help garner and develop long-term relationships between the producers we are already working with and coffee roasting companies that share in the values of transparency, traceability, and relationship that this program represents," says Claudia, green-coffee buyer for Cafe Imports.
We love the goals of this project and are happy to be one of the roasters to showcase these beautiful Ethiopian coffees.
---